In Madison, Wisconsin a public high shool has straight up reverted back to segregation. Don't believe it? Check this out: In a Zoom Meeting invitation Thursday, made in response to the Derek Chauvin verdict, the school gave zoom links for "White Parents" and "Parents of Color" for two seperate and distinct meetings. This is a stunning development and is highly indicative of the social regression of the United States under the Biden-Harris regime. In the 1990's or early 2000's this sort of opaque bigotry and exclusionism would've been followed by mass-firings and civil rights lawsuits. In 2021 with the woke BLM/Antifa supported Democrat-Socialists in power this isn't just tolerated, it's desirable to those in power.
The invitation reads,
"Looking back on all the police brutality and violence that is going on in our country and or communities and even after the verdict of Derek Chauvin and the murder of another young Black female, it is very necessary to have space for our families to discuss and process. The most important thing we can do for our students and their families is to continue our work to build strong, trusting relationships as we engage them through virtual and face-to-face learning. Only after we establish these strong connections can we expect students and families to openly share and dialog around such complex issues. We want to work together to help our students and families feel safe, discuss challenging issues productively, and think about how they can make positive changes in our community. Please join us tomorrow (Thursday, April 22nd) at 4:30pm to have these difficult but necessary conversations."
Jim Crow 2.0, courtesy of the Madison School District. pic.twitter.com/qMKwHu4mMp

— Vicki McKenna (@VickiMcKenna) April 23, 2021
The Insanity of 21st Century Segregation
This blatant racism was initially revealed by Vicki McKenna tweeting "Jim Crow 2.0" to the world, "courtesy of the Madison School District". TheBlaze.com reported an additional stunner: the Madison School district's website  under "for families" and the "communications headquarters" link shows a list of events. Most are common school fare, but with two exceptions:
"An event titled "Affinity Space for Parents of Students of Color" addressed "to parents of students of color only" was listed Wednesday. On Thursday an updated Zoom link for the same event was listed" Clicking either item would revela the same choice of links: "Parents of Color" or "White Parents."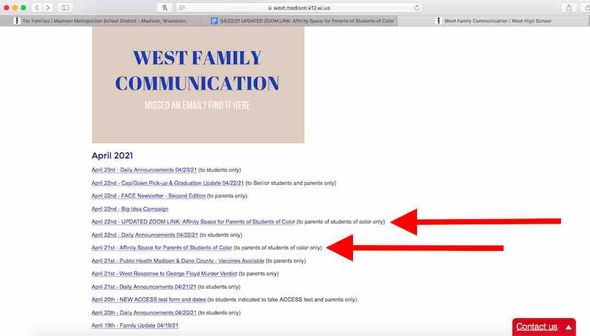 According to the Post Millennial, Madison, WI is not the first school district to make this abhorrent move, they wrote, "This isn't the first time a school has done this. A Massachusetts school teacher segregated student discussions after the Atlanta shooting last month." For the record, mere weeks ago it was widely reported that the Madison Metropolitan School District recieved some $2.2 Billion in Federal aid. Doubtlessly the Biden-Harris regime is pleased with how they are spending it: creating indoctrination and division, not educating children.