In the wake of the horrific Buffalo grocery store massacre, 'Republican' Congresswoman Liz Cheney is now implicating her own party's leaders in making white nationalism, white supremacy, and antisemitism possible. It's a sickening display of the weaponization of tragedy to satisfy a political blood feud before the bodies even cooled. Ten innocent Americans have died, and the tragic loss has already been appropriated for nefarious purposes.
"History has taught us that what begins with words ends in far worse," Cheney tweeted on May 16th shortly after 4 AM.
The House GOP leadership has enabled white nationalism, white supremacy, and anti-semitism. History has taught us that what begins with words ends in far worse. @GOP leaders must renounce and reject these views and those who hold them.

— Liz Cheney (@Liz_Cheney) May 16, 2022
Cheney then went an action even more, contacting Republican leaders to "renounce and reject these views and those who hold them." … something which multiple GOP leaders including President Donald Trump have done on numerous occasions.
As USA Today's James Robbins noted,
"Can we once and for all kill off the distortion that Donald Trump called white supremacists "very fine people"? In the very same comments people are always quoting from, Virginia, Trump said, "I'm not talking about the neo-Nazis and the white nationalists.""
The heiress to the Cheney political machine seems to have missed the memo, that historically and presently the GOP is NOT the party of White Supremacy, but of individual freedom.
The FBI is investigating the Saturday morning attack by 18-year-old Payton Gendron that left 10 people dead as a racially inspired hate crime, and federal authorities are likewise thinking about a potential terrorism charge.
The DoJ said in a statement,
"The Justice Department is investigating this matter as a hate crime and an act of racially-motivated violent extremism," the DOJ release states. "The Justice Department is committed to conducting a thorough and expeditious investigation into this shooting and to seeking justice for these innocent victims."
The suspected shooter, who is white, is thought to have actually written a 180-page screed detailing his white supremacist ideologies and his strategy to assault a Black neighborhood.
He is presumably an advocate of "replacement theory," a conspiracy theory that declares non-white people are being brought into the U.S. and other Western nations to "replace" white citizens to accomplish a political agenda.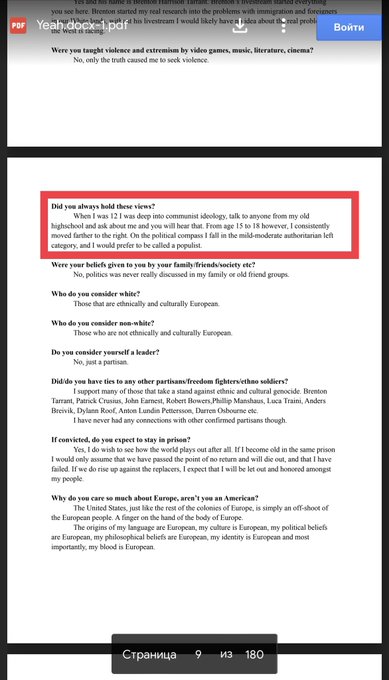 Despite assertions that Gendron is a 'right-wing extremist' by the mainstream media, the killer describes his views as being anti-individualism, and starkly anti-Semitic and he even attests to a political viewpoint of "mild-moderate authoritarian left" stating that when he was younger he was "deep in to communist ideology" later calling himself "populist".
The concept 'great replacement' is popular amongst white supremacist and anti-immigration groups, and seems to be getting traction amongst the general public, according to a current survey. One in 3 U.S. adults believe an effort is underway to change U.S.-born Americans with immigrants for electoral functions, the Associated Press-NORC Center for Public Affairs Research discovered in a survey carried out in December. Tucker Carlson in 2021 noted massive left-wing efforts to make the concept of electoral replacement taboo, despite the objective fact that demographic collapse in the West, is really happening. Furthermore, the 'Replacement' that GOP and conservative leaders refer to is that of a political and cultural character, not a racial one. A Fox's Tucker Carlson explains – WATCH Below.
While the shooter's motivations are clearly linked to race, ascribing his actions and views to  Republican party leadership or any form of conservative ideology simply are not borne out by the facts.
Source: Twitter @Gn0me0peratorNumerous Republican legislators came under criticism over the weekend for their alleged and mischaracterized "acceptance of aspects of the theory." according to NPR.
Amongst them was New York Rep. Elise Stefanik, who last May replaced Cheney– ousted from party leadership over her incessant criticism of President Donald Trump following the Jan. 6 riot– as the No. 3 House Republican.
Her office released a statement on the 16th early in the morning decrying what it called "the Disgraceful, Dishonest and Dangerous Media Smears."
Her senior consultant, Alex DeGrasse, stated Stefanik "has never advocated for any racist position or made a racist statement," adding that she opposes mass amnesty for undocumented immigrants and advocates for stronger border control.
"Any implication or attempt to blame the heinous shooting in Buffalo on the Congresswoman is a new disgusting low for the Left, their Never Trump allies, and the sycophant stenographers in the media," he wrote. "The shooting was an act of evil and the criminal should be prosecuted to the fullest extent of the law."
Illinois Rep. Adam Kinzinger, who like Cheney has actually betrayed the Republican party openly, tweeted about Stefanik's advertisements on Saturday night, and composed that Cheney "got removed for demanding truth.", likewise using the blood of 10 innocent people to further a political vendetta. He went on to add that House Minority Leader Kevin McCarthy "should be asked about this." This only seems to prove that Kinzinger and Cheney's very subjective views of "truth" bear no semblance to "facts" or "reality". But like the far-left Pelosi-acolytes they've cozied themselves up to, neither they nor the mainstream media are about to let silly things like facts get in the way of their narrative.
How long is it … since they bought you. And what was the promised price, Liz?
H/T NPR