Pro-abortion vandals in Oregon and Maryland have attacked a minimum of two Crisis Pregnancy Centers, that assist and support pregnant women while providing them with information on choices other than abortion.
CareNet of Frederick in Maryland was vandalized on May 3rd, following the leaked draft opinion from the Supreme Court that would overturn Roe v. Wade. Two days later on, the windows were smashed initially Image's Southeast Portland Pregnancy Resource Center in Oregon.
"CPCs" in the "F*** CPCs" that they scrawled on the wall after they bashed the windows stands for "Crisis Pregnancy Center"

In the pro-abort Antifa Man's eyes, the only approved choice for a woman facing unexpected pregnancy is to kill her baby. Anything else, & they will rage

— Lila Rose (@LilaGraceRose) May 5, 2022
The pregnancy resource center in Portland had all of its windows smashed on one side of the building and anti-CPC messaging spray-painted on the walls.
"The incident happened overnight, and nobody was hurt. We have an incredibly resilient staff. Nonetheless, it is deeply unsettling and puts everybody at all of our locations a bit on edge," Luke Cirillo of First Image wrote in a post about the incident on the ministry's website. "The leak from the Supreme Court this week has clearly turned up the temperature. We knew this would be the case, and that Portland could be a particularly volatile place to be during this significant moment in our culture."
Cirillo included that, "because of the nature of the crime, it is a federal offense, and we are working with the local police and FBI in whatever way we can."
Prior to the vandalism, an Antifa terrorist using the name "William Gillis" had actually posted addresses of Crisis Pregnancy Centers on Twitter.
Antifa account @rechelon compiled a list of addresses of centers to target in the Portland-area. https://t.co/v0lx0E4AdN

— Andy Ngô 🏳️‍🌈 (@MrAndyNgo) May 6, 2022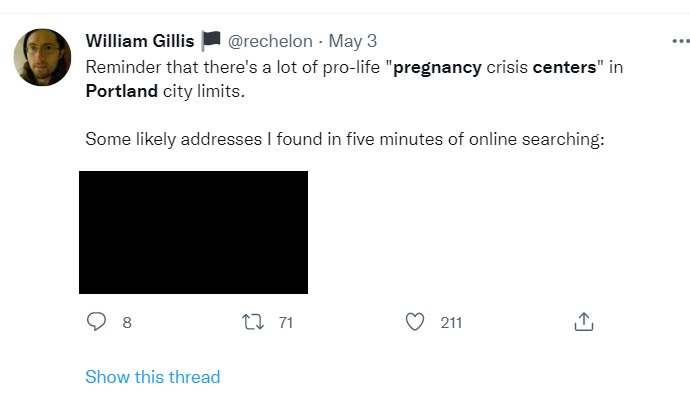 Pro-abortion activists declare that the crisis pregnancy centers "trick" females into not killing their infants because their physicians do not offer the procedure.
LifeNews reports that "a second pregnancy center, CareNet of Frederick in Maryland, also was vandalized with pro-abortion graffiti Tuesday, a spokesperson for the company told LifeNews. Photos published on Twitter by an unknown individual show graffiti spray-painted all over the front of the structure, including, 'Not genuine clinic' and 'End required motherhood.'"
CareNet supplied Timcast with photos of the damage, consisting of graffiti prompting people to go to "PP INSTEAD," implying Planned Being a parent.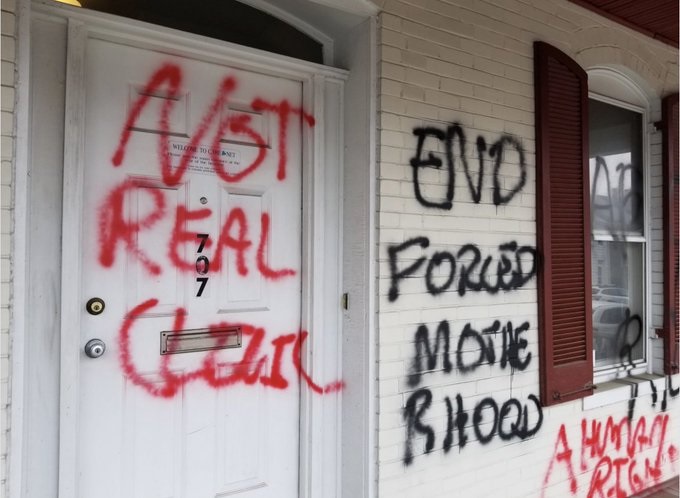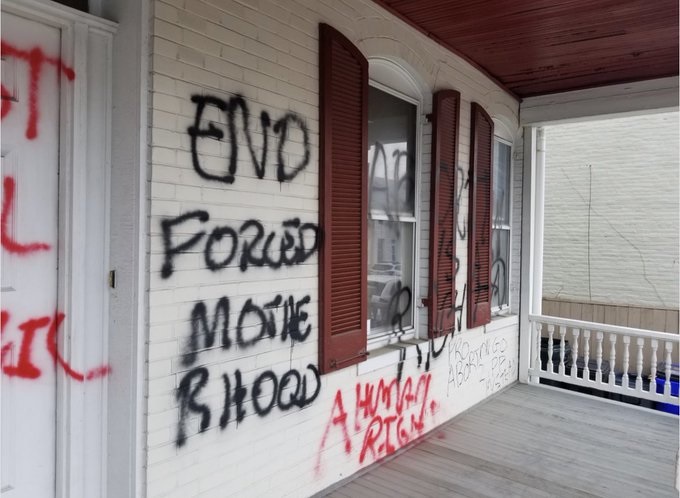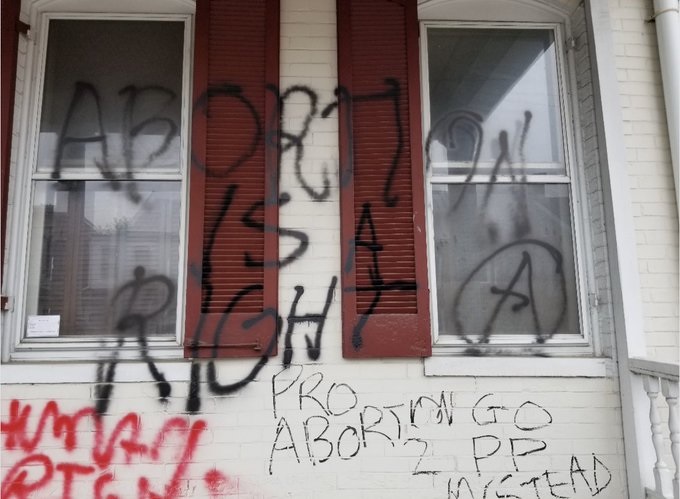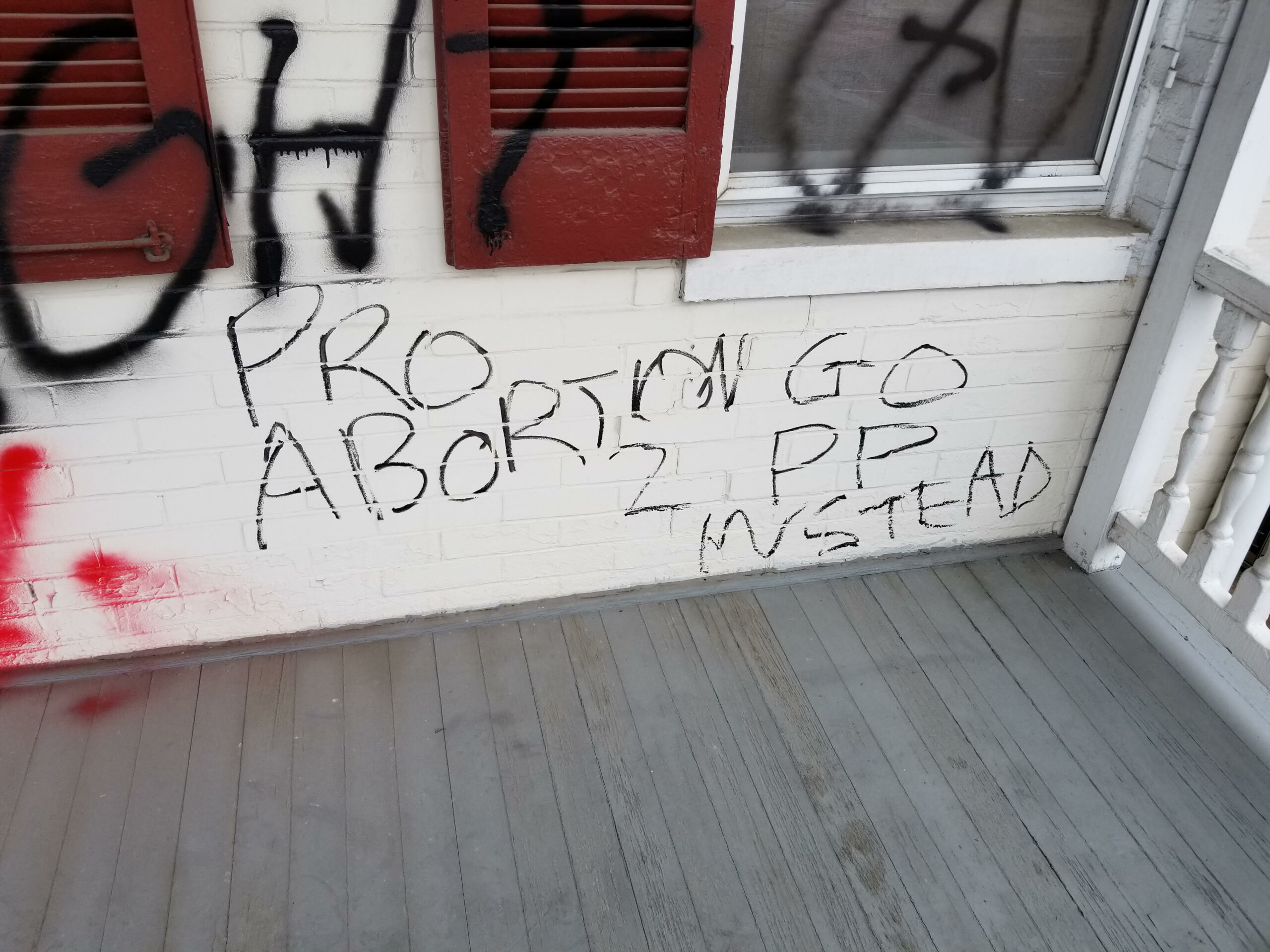 Linda King, Executive Director of CareNet in Frederick, informed Timcast that the vandals had spray painted "not real clinic" in red on their door, "end forced motherhood"next to that, and "abortion is a human right."
"This is actually the third time we've been vandalized. The other two times were in 2014. The first time a brick was thrown through our door, shattered our glass door, and graffiti. The second time was just the graffiti. But in all three of these cases, this symbol has appeared. So unfortunately, this one was out front. So it was very visible to the community," King, who has been with the center for 27 years, said.
King continued, "So we immediately called the police, the police came in, took their report. Then we contacted a donor who also owns a construction company. They came out probably about lunchtime. So by the end of the day, the graffiti, the vandalism was cleared out and are repainted. So we were thankful for that."
Regardless of the vandalism, King stated that the clinic remained open that day.
"We didn't shut down. We continued our services. But it was pretty, you know, it's unnerving to see that kind of vandalism, those kinds of statements. And we are a clinic, a real clinic. So to have the lie posted on our door was, you know, it's disturbing," King said. "I do think that our climate is volatile right now. And unfortunately, we're seeing that here in our little local center. You know, this kind of vandalism, violence is — our community deserves better than this, our center, our clients. So, I don't feel like that we are going to be unsafe in our services that we offer in our day to day routine. But we are going to be vigilant in making sure that we are aware of our surroundings, we are taking precautions to make sure that we are safe and that our clients are safe."
In Texas, a pregnancy crisis center was also opposed by pro-abortion activists on Tuesday.
At Trotter House @ 2717 Rio Grande, fake "Abortion Crisis Center" posing as a health option for people who are pregnant, they form part of the on the ground infrastructure for the anti-abortion movement. pic.twitter.com/fvfvAdqv1x

— Stop The Sweeps ATX (@stop_sweeps_atx) May 4, 2022
The Federalist writer Sara S. Onge tweeted that pro-abortion activists were doxing people who operate at the center.
Activists in Tx are currently vandalizing PRCs, & beginning to doxx volunteers/workers who help women facing difficult circumstances-

Remember these efforts to remove aid options for women when they complain about ProLife people only caring about babies until they're born. ✌🏻 https://t.co/kLe7Gpq3NH

— Sarah St. Onge ن ♀🦬 you probably won't agree w/me (@She_Brings_Joy) May 4, 2022
"Activists in Tx are currently vandalizing PRCs, & beginning to doxx volunteers/workers who help women facing difficult circumstances," Onge wrote. "Remember these efforts to remove aid options for women when they complain about ProLife people only caring about babies until they're born."
On Monday evening, a 98-page draft opinion reversing Roe v. Wade leaked and was published by Politico.
Justice Samuel Alito wrote,
"Roe was egregiously wrong from the start" and "we hold that Roe and Casey must be overruled."
"It is time to heed the Constitution and return the issue of abortion to the people's elected representatives," the draft, titled "Opinion of the Court" continued.
In a press release about the leakage, Alexis McGill Johnson, president and CEO, Planned Being A Parent Federation of America, wrote, "let's be clear: Abortion is legal. It is still your right."
"This leaked opinion is horrifying and unprecedented, and it confirms our worst fears: that the Supreme Court is prepared to end the constitutional right to abortion by overturning Roe v. Wade," McGill continued. "While we have seen the writing on the wall for decades, it is no less devastating, and comes just as anti-abortion rights groups unveil their ultimate plan to ban abortion nationwide. Understand that Planned Parenthood and our partners have been preparing for every possible outcome in this case and are built for the fight. Planned Parenthood health centers remain open, abortion is currently still legal, and we will continue to fight like hell to protect the right to access safe, legal abortion."
Journalism release included that, "though the decision is not yet final and abortion remains legal, if this decision issues, 26 states are poised to move quickly to ban abortion, leaving more than 36 million women of reproductive age — and other people who can become pregnant — without abortion access."
Roe v. Wade stays in place up until the opinion is signed. Votes and drafts might alter till that point.
If it is overturned, laws concerning abortion will be left for private states to choose.
This story has been updated with photos of the damage at CareNet and remarks from the executive director.
H/T Timcast